Author JJ Virgin wants you to join the movement and lose 7 pounds in 7 days.
About The Virgin Diet
Are you on a diet and eating all the healthy food that your dietician, food guide, or weight loss coach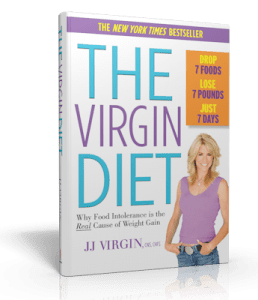 told you to eat, and you still cannot lose weight?
This book reveals the real secret behind weight gain—food intolerance. 
The Virgin Diet will provide you with a list of healing foods that help reset your metabolism. In addition, you will learn what foods cause food intolerance by eliminating the food one by one and then putting it slowly into your diet plan. 
The book will provide you with nutritious recipes and diet plans that will never leave you hungry or deprived.  In just one week, you'll drop up to 7 pounds and look and feel years younger.
The 7 hi-fi foods to eliminate are gluten, dairy, eggs, soy, corn, peanuts, sugar, and artificial sweeteners.
My Review
JJ Virgin confirmed my belief that certain foods can cause inflammation. When I read the side effects that occur when you eat a particular food, I could see right away that dairy was a problem for me. Dairy was causing me to feel bloated, put on weight, and have difficulty breathing. As well, I have always had nasty allergies all my life. I was sneezing, had watering eyes, and a horrible skin condition. I was hoping this new diet would help me with this. In addition, as she said in her book, a sign is that I would be craving food that was not good for me.
Her book talks about the seven foods to avoid and why you should avoid them. The seven foods I found were effortless to substitute. The foods she suggested are incredibly healthy. I liked that for each food that she mentioned you should avoid, she offered a healthy alternative. She also explained why you should avoid these foods and backed it up with facts. Her recipes at the end of the book helped immensely. She was providing you with alternative meals that were healthy and calorie-conscious. The tables in the book gave a quick reference on substitute food I can buy while I was shopping. 
I was impressed that the Author JJ. Virgin was over 50 and was able to shed unwanted pounds. Many menopausal women who are battling constant weight gain can benefit from this book. I am now on this permanent meal plan, and I am feeling great! My skin looks better, I stopped feeling tired, and I am breathing better. I intend to keep this up permanently because I feel good and I have lost weight![/vc_column_text][/vc_column][/vc_row][vc_row][vc_column][vc_empty_space][/vc_column][/vc_row][vc_row][vc_column width="1/3″][/vc_column][vc_column width="1/3″][dt_sc_blockquote type="type3″ variation="magenta"]
An adverse reaction to certain foods like dairy or gluten can sabotage your health by triggering inflammation and causing a host of nasty symptoms like bloating, breakouts, hives, allergies, headaches, achy joints, and—worst of all—stubborn weight gain and weight retention.
About the Author
Celebrity Health and Nutrition expert JJ Virgin is the premiere voice of scientific reason in the world of nutrition and wellness. Virgin is also a spokesperson for Emergen-C and Subway and spent two seasons as a health expert on "The Dr. Phil Show."
JJ has provided nutrition and training programs for a wide variety of famous faces, including CEOs, athletes, and celebrities. She is responsible for turning the most challenging weight loss-resistant cases into stunning successes where clients stay lean for life.
anti inflammatory
easy diet plan
fitness and dieting
food intolerance
lose weight
United States
virgin diet
weight loss