About the Book
The first novel by Carol Margaret Tetlow: Out of Practice, just released by Editions Dedicaces. "Out of Practice is the first in a series of four novels, all based in the same family practice. The protagonist in each is a different doctor. While I have since written two stand alone novels, I'm now re-visiting the original series and planning the fifth novel", said the author. Here is the synopsis:
Clare Jennings is a popular, hardworking general practitioner. A perfectionist, she puts her patients and work above all else, including her psychiatrist husband, David.
 The arrival of Sam Curtis, a young doctor whose training Clare is responsible for adds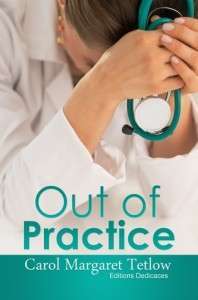 to her already enormous workload and as they grow closer, Clare finds that her life, both professional and private is beginning to fall apart. Arguments at home, bad clinical judgements, complaints and betrayal compound Clare's guilt and feeling of worthlessness as she spirals deeper and deeper into depression.
 Will she be saved before it is too late?
 Rebecca Owen wrote about this book: "I was lucky enough to read this novel before it was published and it is a wonderful read. You are hooked from the start with likeable characters and an engaging story. The medical aspects are true to life and accurate and you care about what happens to the people. A great read MORE MORE MORE please."
This book is available through eBay, Biblio and other booksellers for $19.99.
http://biblio.co.uk/book/out-practice-carol-margaret-tetlow/d/727284521
About Carol Margaret Tetlow
Carol Margaret Tetlow is a general practitioner in North Yorkshire, England. She have been writing seriously in her spare time for about 8 years now, taking her ideas from the diverse selection of people and situations that she come across at work. Out of Practice is the first in a series of four novels, all based around the same characters, the protagonist in each being one of the doctors.
Carol Margaret Tetlow live in the beautiful Yorkshire Dales with eleven donkeys, one pony, two dogs, two cats but just the one husband.
Publisher Website: http://www.dedicaces.us (Editions Dedicaces)
canadian