About the Author
Annie Meehan is an international speaker and author. A member of the National Speakers Association and graduate of their apprentice program, she is also a certified life coach. Annie is the author of the inspirational journal Paths, Detours, & Possibilities and has been a guest on Twin Cities Live and The Oprah Winfrey Show.
When not delivering upbeat, motivational talks for audiences across the country, Annie accompanies her husband in raising their three children, owning and operating a Snap Fitness center, supporting a team of more than a hundred AdvoCare supplement distributors, and volunteering. She lives in Burnsville, Minnesota.
About the Book
For a long time, Annie Meehan felt she was worthless. She thought that she would never be able to escape the cycle of negativity, poverty, and abuse that she had grown up in. But even in the darkest times, she knew,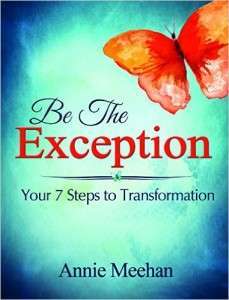 deep inside, that she was created for more.
Life can be rough—we all know it. But the truth is that you are stronger than your circumstances. You have the ability to be an inspiration and to live a truly exceptional life! Whether you're just beginning your journey or are a well-traveled veteran, know there is always room to grow.
Be the Exception will show you how to take the suffering of your past and mold it into a ladder that will lead you to freedom. In these pages, you will find stories that guide you through the tough times. It will teach you how to let go of anger and resentment, how to love yourself, and how to grow into the person you dream of being.
My Thoughts
I received a copy of this book from NetGalley. Right at the start you identify with Annie, she opens up and tells you about her life. You immediately trust her because you realize, like you, she too has gone through hard knocks. She came from a broken place but today she has things that she is proud of. I was naturally drawn to the cover of the book. The butterfly metamorphosis goes through a life cycle and becomes beautiful. The butterfly is a symbol of transformation and so is this book. Be the Exception: Your 7 Steps to Transformation will show you how to take the suffering of your past and let it go; reconcile your past and grow from it. You will learn how to be loved, create your family, let go of anger, break the negative cycle to then enable you to find your inner peace and freedom. The back of the book has a great list of recommended resources. In fact, this self-help read has practical tips and exercises that are easy to understand, help you to evaluate yourself and learn a new perspective.
The book Be the Exception: Your 7 Steps to Transformation is available as a paperback and in ebook format. You can learn more about Annie Meehan and her writing by going to her website, Amazon and other retailers .
self help
self improvement