About the Book
Little Bits of Karma Even though Holly O'Rourke is having problems with her longtime significant other, James, she has never considered cheating…that is, until the day she has a very interesting encounter with Charlie, a handsome coworker. Desperate to understand her increasingly conflicting emotions, Holly schedules an appointment for a reading with a psychic medium. She learns a surprising deeper meaning to her present-day troubles: Her past lives are full of adultery and tragic consequences―and not just with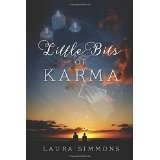 James and Charlie. The threads of her soul have been interwoven for centuries with those of several people in her present life. And the cost of karmic justice has finally come due. Little Bits of Karma follows Holly across time and space, weaving little stories of romance into one sweeping soulful tale of two souls who've chased each other through the centuries, but always been torn apart. Until now.
About the Author
I enjoy reading books on all things metaphysical, especially reincarnation. Little Bits of Karma is my first novel. I've wanted to write a book since I was a child, it was the first thing I can ever remember saying I wanted to do when I grow up. I've started and stopped writing a novel several times throughout my life and finally found the time and energy to finish and publish one. I love creating worlds in my mind and writing about them.
My Thoughts
I received a copy of this book from NetGalley. Originally, I was attracted to the visually appealing cover that immediately caught my attention from just a glance. The picture of the couple with the sun going down is breathtaking. The title of the book 'Little Bits of Karma' was not disappointing, it matched the story perfectly. The book talked about the spiritual New Age realm and explained the role of psychics in detail. The main characters are middle aged in this book, making this book geared towards adult reading. The book is full of romance, suspense and time travel, with a touch of fantasy. I found myself envying Holly. If only all of us could see our past lives in our dreams, learn from them and not make the same mistakes in our present life.
The book focuses on Holly O'Rourke. It started with a prologue that listed individuals in the main characters current life and who they were in her past life. I found myself referencing the prologue repeatedly throughout the book. The prologue gave clarity. Holly's past lives were intriguing.
They say, "What goes around comes around." This is definitely true in this book. Sometimes, we need a break from our own reality! Little Bits of Karma keeps you spellbound!
You can learn more about Laura Simmons and her writing by going to Amazon.com.
fiction book
new age
romance