About the Author
The author is a practicing Advocate of the Supreme Court of India, who specializes in Human Rights and Public Interest matters. Since his childhood, he has been keenly interested in spirituality, philosophy and ancient Vedic knowledge, and has devoted a lot of time on the research of these subjects. The observations in the book are based upon his own personal experiences and research on the subject. A large number of similar articles written by him have already been published in 'The Speaking Tree' (Times of India) and The Hindustan Times Newspaper.
What is the purpose of life? Do worldly success, material comforts, health and wealth ensure happiness and peace?
About the Book
What are good and bad Karmas? What causes all that happens to us in this life… our karma or fate?
Is there a state called death? Is there rebirth after death?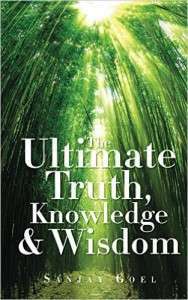 Is everything preordained, or are we responsible for our doings?
How can we achieve ultimate peace and bliss?
These are some of the questions that we keep asking ourselves all the time…
Drawing from the wisdom of ancient Vedic philosophy and personal experience, the answers to these and many more such oft repeated questions are touched upon, going on to cover the gist of the Vedantas and the supremacy of Karma Yoga, interspersed with practical tips for modern day life, such as the qualities of a good leader, who is an ideal Guru, the effects of philosophy on health, benefits of meditation, etc…
The Ultimate Truth, Knowledge & Wisdom
Paperback: 104 pages
Publisher: Notion Press; 1 edition (December 17, 2015)
ISBN-13: 978-9352065868
My Thoughts
I received a copy of this book from NetGalley. Most chapters are well written, with easy to understand language and good examples throughout the book. The contents matched the chapter title and book cover. The author devotes a whole chapter explaining different types of yoga and how they benefits us. More information about the author Sanjay Goel is needed in the book; his background and a picture of him would have helped me understand more about him as a person. His beliefs, and does he himself practice what he preaches? The author tells us throughout the book how to achieve peace and bliss, the ultimate purpose of human existence. It explains that the human mind is always disturbed, restless and wandering in the past, present and future. Due to lack of understanding, there is the false belief that these materialistic objects would give us more satisfaction and happiness. That materialism causes us to feel empty and our desire increases, yet we feel no satisfaction. Only the person who understands that there is nothing to achieve or lose in this world, can understand that life & death, happiness & sorrow, gain & loss, good & evil and so on, shall always be equal to each other; only they can become a Yogi and obtain the state of peace and harmony. Deep spirituality, inner peace, is within your reach after reading this book. This book does push hidden boundaries; you will find that you will look differently at the relationship between yourself and the world around you. That happiness is not just a dream, it can be achieved within your reach.
You can learn more about Sanjay Goel and his writing by going to Amazon.com.
Health
karma
meditation
nonfiction book
spirituality
spirtual book