About the Book Fire In the Wind
In the fourth story of the "Wind" series, attorney Megan
notices that the Fort on her property door was unlocked she calls State Patrol Officer Warren Merritt, in the nick of time to stop a burning KKK cross from burning her land. She then finds a rope with a noose outside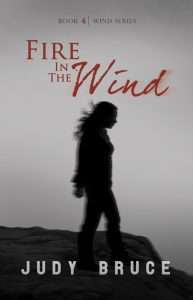 James home. She later forms the Night Posse and then strikes back. James her African American friend is shaken by the burning cross events and becomes tragically ill.
Her new boyfriend mysteriously disappears, she finds herself attracted to a mysterious Arab visitor called Raz. After her new boyfriend is killed, she is jailed for his murder. Later she fights to the death in the darkness against an avenger. An undercover cop pursues her. When a dying James attempts to end his life, Megan is forced to act.
Book Details
Paperback: 268 pages
Publisher: Merriam Press
ISBN-10: 1576386228
ISBN-13: 978-1576386224
About the Author
Judy Bruce is a novelist and screenwriter. In addition of her acclaimed novel, Death Steppe: A World War II Novel, three stories have been published from her Wind Series: Voices in the Wind, Alone in the Wind, and Cries in the Wind. Her next novel, Fire in the Wind, will be published in the spring of 2017 by Merriam Press, with Lies in the Wind to follow in the fall of 2017. Judy maintains a website at judybruce.com and a blog at heyjoood.com. She is a wife, mother, and sister residing in Omaha, Nebraska, and a Creighton University law school graduate. Her autistic son keeps her in touch with her quirky side.
My Thoughts
Though the title to Judy Bruce's Wind Series book changes the book cover does not change. Letting the reader easily identify that this book is part of series. Excellent marketing tactic listing the other books that are part of the "Wind" series at the beginning of the book. Judy Bruce writing has a sense of humour you will find yourself laughing at the dry humour throughout the book.
The main character Megan's role changes throughout the book series, in this series she taps more into her psychic abilities that she calls her gut feeling when she is dealing with conflict. Again she finds herself put in a role as a vigilante. Sometimes relying on the law is not enough, she herself avenges and conquers the evil people that has invaded her small town.
We emotionally identify and relate to Megan as she is haunted by her now tragic past. This book is well written, full of romance, suspense, mystery and adventure. She has had three stunning men in her life and she is torn between them. Megan is a role model, a highly successful respected lawyer, who like a private eye solves difficult cases. She is financially independent, has a love for animals, a true warrior who is gutsy and tough.
As a teen I was a great fan of Nancy Drew, this series reminds me of the adult version of the Nancy Drew series because it is fast paced and chapter to chapter keeps me in suspense. I find myself rereading the other books in the series. Like the Nancy Drew series, this is a series that you will keep as a collectable. As you get to know Megan more, you will find yourself sharing this book with your sister, daughter or girlfriend. You will find yourself impatiently waiting for the next series to learn more. The "Wind" series would definitely make a great TV series.
You can learn more about Judy Bruce and her writing by going to her website, Amazon and other retailers.
suspense
women fiction