I travelled to Greece in August of 2023. During that time frame, I visited six  islands and Athens. I visited the Greek islands Hydra, Poros, Naxos, Mykonos, Delos and Aegina. Travelling Solo involves a lot of freedom, including having complete control of where you go and where you go without needing permission. You are in total control of your experiences. Listed below are things to consider when travelling as a solo woman.
Packing 
You can buy new clothes anywhere. Athens, located not far from France, has a ton of women's clothing, the latest styles selling at reasonable prices. So pack light so you have room to send clothes home. No one will buy your medicine when you are ill. Focus on packing medical supplies to help yourself if you are sick before you go to a hospital. Supplies like Tums for indigestion, heartburn medicine, gravel for sea sickness, aspirin for pain and headaches and bandages for cuts and bruises are necessary. I found myself giving out medical supplies to passengers during my boat cruise; this made me popular, and I was invited to join many tables. 
Alcohol 
The world can be dangerous for women; if you are solo, you could be targeted. It takes a second for someone to slip a drug into your drink. If you are going to have a drink, the safest place is at your hotel bar, surrounded by people with easy access to your room. I had a glass each night at my bed and breakfast on the patio overlooking the sunset. The owners were tending the bar. I find at most small hotels, staff monitor who is coming and going.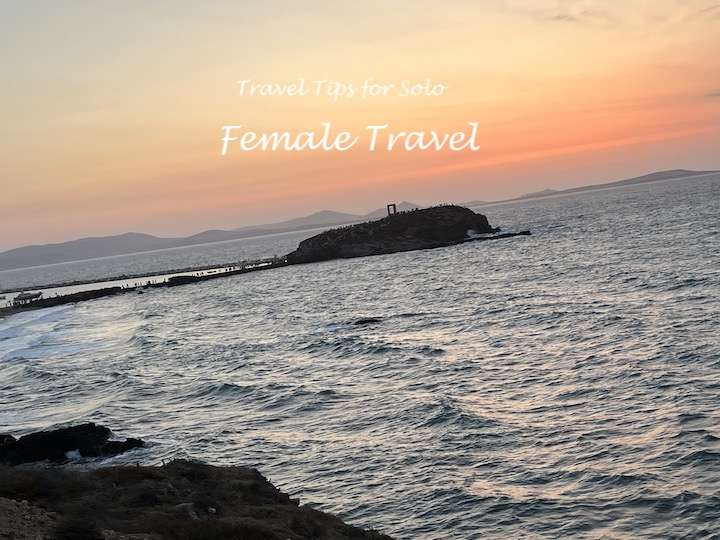 Pickpockets
Before I left, I invested in clothing that had hidden pockets. Lululemon is famous for shorts and yoga pants with hidden pockets. I purchased shorts from Lululemon and wore them under my skirts and pants. As well, an Anti-theft crossbody purse would detour any pickpocket. If they see it is too hard to get your valuables, they will not bother. You can add a small lock to this purse. Pickpockets love phones; my Apple watch was also a powerful tool when using my GPS because I did not have to have my phone out in the open. 
Locks
Safes only have limited room. Bring locks to lock your luggage to protect your belongings when you leave the room. You can use the locks to lock your belongings on the plane when you need to go to the washroom and cannot take them with you, or you need to put the luggage in a bin near your seat. Small locks are great to use at the beach, too.
Powerbank
I relied heavily on my phone's GPS to find places and my hotel. I took all-day cruises to 6 islands; after taking videos and pictures, I found my iPhone ran out of power quickly, and a power bank would have been beneficial.
Jewelry and Clothes
Blend in with the locals and choose clothing that matches what the locals wear. When wearing jewelry, wear silver or imitation jewellery. Gold will attract pickpockets, and if any of your jewelry goes missing, you will not miss it.
Your Under-the-Seat Baggage
Ensure you carry two outfits in your under-the-seat baggage, including underwear and a spare bra. If your checked-in baggage goes missing by the airline or something happens to your overhead luggage, you will have spare clothing and necessities such as a toothbrush and hair brush.
Taking Pictures
Look for a couple who is travelling or a female solo traveller to ask them to take pictures of you. Couples have problems getting pictures together, and solo travellers have problems taking pictures of themselves, period.
Tours
Take organized tours when possible. Not only do you meet other solo travellers, but these trips provide you with sightseeing in a group setting, so you are never alone.
Transfers
Greece is full of pickpockets and thieves who hang around tourist attractions, buses and trains. If you are targeted, the tourist police may not help. Being alone makes it worth paying a little extra to take private cars to your hotel. I spent 10 dollars more than a taxi from the airport to my hotel; my safety was worth it! If you will take a taxi, use an Uber or Freenow app where your price is provided in advance.
Know Emergency Numbers
When planning your trip to Greece, know where your hospital is located and ensure you have the phone number or location of your embassy and the number of the tourist police.
Your Hotel
Small hotels or bed and breakfasts run by families can be beneficial because families work at the bar and behind the counter. They monitor who comes into their hotel, and they are great for providing advice on local restaurants and providing reviews on tours. Check your hotel location and ensure it is in the better part of town, where you can walk to attractions.
Passport
Many tours or when taking a ferry require you to carry identification. Leave your passport locked in your room and bring a photocopy of your passport on you. If your passport ever went missing, having a copy would be valuable when going to your embassy, proving your country's origin, and getting a temporary replacement to board your flight.
Aegean
Athens
Delos
female solo travel
Greece
Hydra
Mykonos
Naxos
Paros
Safety Precautions
solo female travel
women connect
women connecting