About the Book Dying to Run
Cassidy Christensen wants to run. Captured by the traffickers who killed her mother, Cassidy's only hope is Dr. Tattoo, a man she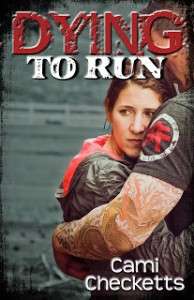 loves but nobody trusts. When she finally gets a chance to run, someone else she cares about is taken. Running might be her only chance at survival, but Cassidy won't allow another family member to be killed in her place. This must-read sequel to Dead Running will have you laughing, biting your nails, and hoping for more.
Dying To Run is available at:
www.amazon.com/Dying-to-Run-ebook/dp/B009ZJ0TJE/
* I was given a complimentary copy of this book. My opinions are my own.
My Review
Dying to Run is a novel full of action, romance and suspense. The book is easy to read and engaging. The book talks about the dark world of human trafficking The main character Cassidy survives kidnapping, gunfire and an explosion to be reunited with her family. I found myself hoping she would find love with the man who plays an important role in her rescue Jesse.  A must read, this book will keep you in suspense wanting to know more until the very end.
About the Author Cami Checketts
Cami Checketts is married and the proud mother of four future WWF champions. Sometimes between being a human horse, cleaning up magic potions, and reading Bernstein Bears, she gets the chance to write fiction.
Cami graduated from Utah State University with a degree in Exercise Science. Cami teaches strength training classes at her local rec and shares healthy living tips on her fitness blog: http://fitnessformom.blogspot.com.
romance
suspense