Daniel Friedmann is author of the new book, "The Genesis One Code" which lays out the connection between God's creation and modern-day science.
If anyone is knowledgeable about science and religion, it's Daniel Friedmann. Daniel's background and experience makes him uniquely suited to provide information about the origins debate from a fresh perspective informed by both scientific and spiritual research. He is currently CEO of Canada's leading aerospace company and is involved in space exploration and the Hubble telescope. He is a professional engineer and holds a master's degree in engineering physics. He has 30 years' experience in the space industry, having worked on projects in fifteen countries while throughout the decades conducting extensive scientific research. He is also a longtime student of religion for the past 14 years.
"I have pulled out 20 events from Genesis that match Science" said Daniel. The book traces the history of universe, life, fossil records, ascertain what events Genesis said happened and what Science said happened how are they the same? "The fundamental text for the book is Genesis which of course is central part of the Torah and the Old Testament in Christianity. Genesis is also a key text in Islam.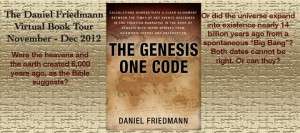 All sources other than Genesis are exclusively Jewish sources, although I am finding that some commentaries, like Rashi, are read by other religions." said Daniel.
The book answers such questions as when did we have animal life, how old is the universe, when did we have life in the ocean and when was the sun made. Read more about Daniel Friedmann's book The Genesis One Code.