I was tired of wearing glasses, and I dreaded one more day of waking up in the morning not being able to find my glasses. The final straw was not being able to see when I went swimming. 
Having an Astigmatism in both my eyes, I was convinced that I would not qualify for an eye surgery correction procedure. After ten years of talking myself out of laser eye surgery, I decided to take a risk, and I made an appointment for a consultation at the LASIK MD near me. 
What you should know about laser vision correction surgery?
In 2021, laser eye surgery in the USA and Canada cost around 2000 dollars per eye, depending on the type of vision correction you received and the technology. Price depended on the reputation and experience of the surgeon. Here are ten things you need to consider when getting laser eye treatment. 
1. What you should look for during your LASIK consultation.
I would recommend that you see more than one doctor and get more than one estimate. When choosing your doctor, trust your instinct. Do you trust this doctor enough to upkeep your vision needs for years to come? During the consultation, you should meet the doctor who will be performing the procedure, not just his staff. Does the doctor listen to your needs and answer your questions? Does he understand your doubts and tell you the risks involved in performing the surgery?
2. Relay upon the reviews you read on the internet.
One hundred percent of the time, your doctor will only have positive reviews on display at his office. Read the negative reviews first. If you start to see many complaints about his skill, lack of after-care service, or bedside manner, it is time to look for a new doctor. When looking at reviews, go to these reliable sources:
Rate an Md
RealSelf.com
Google.
3. When purchasing Laser surgery, do not go for the lowest price.
The skill of the doctor is indeed essential. Your doctor will need a steady hand to cut the thin flap in the cornea if you are getting laser surgery. If you are getting PRK blended laser eye surgery, your can expect to have your eye lasered because your cornea is thin. If the laser eye surgeon offers coupons or steep discounts, you need to ask yourself why they lack business. 
The price is a reflection of their skill level.
4. Ask your doctor about the after the surgery service.
The customer service provided by my doctor was excellent; the price that I paid for the eye surgery included a three-year warranty. They provided me with free eye drops, sunglasses, and a carrying bag. After the procedure, I would not have to visit the pharmacist to fill any prescriptions. The staff checked my eye health and gave out prescriptions for glasses. I would not have to make an appointment to see an optometrist. The warranty included one laser eye revision.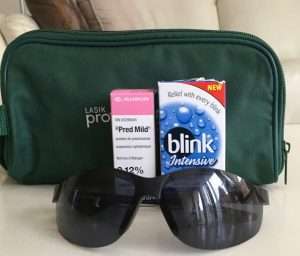 Your doctor should provide an eye revision for FREE!
5. What is the office atmosphere?
Is the office professionally run? Are the staff friendly? The laser team is a reflection of how the doctor feels about his patients. They manage client records, book appointments, and coordinate the after laser surgery care. Are the staff gossiping about patients while you wait in the waiting room? The laser team should respect client confidentiality and empathize with your concerns. You would need to feel comfortable approaching them if something goes wrong with your treatment and healing process. 
After my surgery, a staff member who was an optometrist blamed me for my slow recovery. Not trusting my eye health in the hands of this optometrist, I quickly asked for a replacement, and the staff gave me one.
6. The healing process could take longer.
Be prepared to book extended time off work. Before my surgery date, I watched several YouTube videos where individuals talked about their PRK experiences. Everyone in the video was boosting about having a fast recovery time. They claimed to have regained their full sight within three weeks and could go back to work. I was depressed to find that my eyesight was still not healed after three weeks. I was unable to drive, and I did not yet have 20/20 vision. After six weeks, my eyes healed, and my optometrist told me I now have 20/20 vision. 
7. What to take along to your eye surgery appointment.
The wait for your laser eye surgery procedure could take several hours. After the vision correction, most people have poor vision and sensitivity to light. I would recommend that you bring headphones, your cellular phone, or an iPad. This way, you can listen to podcasts or listen to audiobooks that do not involve reading. Make sure you own a pair of polarized glasses and goggles so that you can avoid the sunlight and water after your surgery. 
My surgery happened in the summer, but the operating room was cold. Bring a sweater or blanket just in case. 
8. Bring a friend that you trust.
Before my surgery, they escorted me into a prep room, where they provided me with Valium to relax me. They placed freezing drops in my eyes which affected my vision. After the surgery, I was not able to drive. Arrange to have your friend take you home. They may have to help you settle inside your house
After the surgery, I was not able to drive.
9. Ask what they will provide you with for pain management.
During your consultation, ask if your doctor can give you a prescription for a pain killer. My surgery was painless, but I felt like a vampire as soon as I left the office. The sun hurt my eyes even with the polarized glasses on. My eyes were bandaged with two contact lenses to help promote healing.  When these contacts become old, they started to itch and scratch my eye. I am thankful that I was given a prescription for Tylenol as I left the office the day of my procedure. 
I found comfort in taking my painkillers; they prevented me from accidentally scratch my eyes and slowing my recovery.
10. Purchase a warranty
I arrived at the office at least a half-hour before my scheduled consultation with the doctor. As I sat on the couch, I spent some time asking patients if they had the surgery and their experiences afterward. Many former laser surgery patients told me that the procedure does not last forever—the warranty costs around 500.00 for three years. Then I could extend the contract another three years for the same price. The service plan included visits to the optimist for vision services and free drops. The warranty included one medical procedure revision. 
My motto has always been, you get what you pay for!
Finally, make sure you read about the risks involved in having laser eye surgery. Provide yourself with a list of the risks vs. the benefits before making your final decision.
corrective eye surgery
eye surgery correction
Laser Eye Surgery
Lasik for astigmatism
optometry
PRK
vision correction
vision services