Many countries closed their border due to the COV-ID pandemic in early 2020. Thanks to a vaccine, infections have declined, and many travel destinations are slowly opening their border.
Santorini (officially called Thira) is a Cyclades island in the southern part of the Aegean Sea. The island is known worldwide as a destination for weddings and movies because of its most beautiful scenery. This greek vacation is one of the top spots on many women's bucket lists.
Listed below are the top things to be aware of when planning your 2021 Santorini holiday.
What should I bring before I go
Water quality varies from country to country. To prevent sickness, bring a reusable water bottle with a filter, like a Brita. This way, you will save money on the purchase of filtered water. The voltage and shape of the plug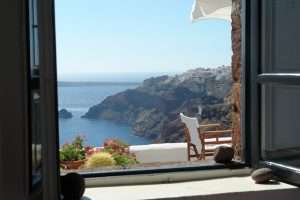 are different in Europe compared to North America; bring a universal adapter plug for your phone.
You should also bring:
Keep a record all your shots.
Bring toilet paper.
Have a pen to sign border documents.
Bring medicine with you and bug spray.
Don't forget a beach towel and lotion.
Safety pins to close your pockets and hide money.
What to look for when selecting accommodations
Santorini can be a very crowded place to visit, and depending on where you stay; it can be very costly. Fira is the capital, the bus station to get around the island is here. Fira is also known to have an active nightlife. Oia is the busiest part of the island and the most expensive hotel accommodation due to its caldera and sunset views. Make sure your hotel is offering free or affordable pickup from the ferry port or airport. When looking for accommodation, the towns located in Fira, Firostefani, Imerovigli, Oia, and Akrotiri all have famous caldera views.  
Fira is the central hub to the bus station; the city has lots of nightlife and hotels with an ocean view. Prices range during the high season from $300 CAD up.
Firostefani is quiet but is within walking distance to Fira and hotels with ocean view range during high season $250 CAD up.
Akrotiri is near the beach, far from the central hub Fira and the ocean view range during high season $250 CAD up.
Oia is popular, crowded, and hotels with ocean view range during high season $500 CAD up.
Getting to Santorini
Plan to stay in Athens when you first arrive because many of the flights around the island only leave Athens and go to various Greek island destinations. There are very few planes between islands. Santorini airport taxis have a fixed rate, but there is a shortage of them during peak season. Taking a plane from Athens to Santorini will take around 45 minutes. Leaving from the Piraeus port in Athens is cheaper, but the ferry can take 5-8 hours.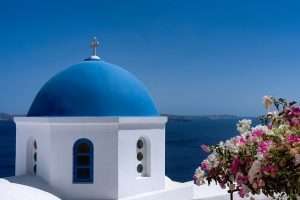 When to visit Greece and Santorini
June, July, August, September – More ferries per day are leaving Athens, Greece. The weather is excellent for swimming, and it is considered high season.
April and October –-Less crowded, and you can still swim. Most of the tourist businesses are still open. The month of April brings many Greek holidays.
May — Awesome time to go, it is not high season yet, and all tourist businesses are open.
November to March — Limited ferry options, many tourist businesses closed, and colder weather.
Getting around Santorini
The buses are air-conditioned, goes to the airport, beaches, and around the island. Bus tickets are inexpensive, and all the buses finish their route in Fira. You can take the walking path from Fira to Oia. The walking trail leads you to Fira, Firostefani Imerovigli, and Oia. Wear comfortable shoes because there is some hiking involved. There are unmetered taxis, so be sure to negotiate a price before you start your trip.
Things to do in Santorini
With so many choices in beautiful towns with scenic views to choose from, determining before you leave what you plan to do can narrow down where in Santorini you want to stay.
Some activities are:
Dine and Walk Santorini Food Tour
Leaves Fira and goes to neighbouring Firostefani.
Group Santorini Wine Tasting and Vineyard Tour
Pickup is at most hotels in Santorini.
Santorini Cable Car
The location in Fira is six km from the airport.
Sunset in Oia
If you do not stay in Oia, buses leave from Fira, and there is a walking path that you can take to view the sunset in Oia.
Santorini Walking Tour with a Personal Photographer
Meet in Passagio Cafe, Oia Santorini, be provided with a photographer who will take you on tour and take up to fifty photos. 
Semi-Private Cruise with a Buffet 
By Spiridakos Sailing Cruises
See Santorini's volcanic landscape, best beaches, swim, and snorkel.  
Santorini Caldera Cruise with a Meal
By Santorini Day Tours by Dimitris P.
Visit the scenic beaches, the caldera (flooded volcanic crater), and hot springs.
Cruises
Many of the cruises depart from Athinios port. The closest town is Fira which is 30 minutes away by car.
Emergency Care
Be sure to add these numbers to your phone or write them in your phone book.
Port Authorities: 22860-22239
Santorini Airport: 22860-31525
Santorini Airport: 22860-31666
Police (Fira): 22860-22649
Police (Oia): 22860-71954
Taxi: 22860-22555
Buses info: 22860-25404
Cable Car: 22860-22977
Thira Hospital: 22860-35300
Finally, view the blue domes, white houses; if you do not plan to visit the beach, Santorini can be good to see any time of year. If you have any tips on how to enjoy Santorini, please let us know!
Sources: santorinisecrets and visitgreece.gr
Images: pixabay
2021 Santorini holiday
25th island of Greece
Cyclades island
Greece
Greece travel
Oia Santorini
Santorini accommodation
Santorini holidays
Santorini holidays 2021
Santorini travel
Santorini vacation
visit Greece