It's safe to say that the way homes are built hasn't changed very much. Construction is still a stick by stick process. However, what's hot in custom home construction has changed and continues to evolve. Some of the biggest trends center around technology and a different focus on design and function. However, there are more.
Voice Controlled Technology
One of the most popular trends in custom home construction is the use of voice-controlled technology. Home control automation products and services are rapidly emerging with companies like Siri, Alexa, and Google gaining in popularity. As a result, building products companies are partnering with tech giants to introduce products and systems into new homes that can be voice controlled. Custom home construction companies are incorporating voice-controlled technology into their design and construction as a result.
Smaller Homes Are Growing in Popularity
Another growing trend is the emergence of smaller home construction. Many people are opting to look to custom home construction companies like David James Custom Homes to build smaller more functional homes. This is a growing trend with both young families and baby boomers. There is also a focus on the functional use of outdoor space. People want both indoor and outdoor space that makes sense and adds convenience and function to their spaces. Many builders have incorporated private courtyards that allow families to enjoy outdoor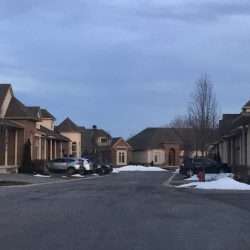 space without being visible to neighbors. A courtyard might be built at the center of the home in order to add internal access to the outdoors and create privacy.
Innovative Kitchen Designs Rule
Kitchens have become more of a focal point for many designers. The kitchen has become a place to cook and socialize, for many families and friends. The kitchen doubles as a functional place to prepare food and entertain together. This has resulted in larger kitchens as well as kitchens with more than one workstation and shared access to the garbage and other kitchen appliances. In other words, kitchen design has changed to accommodate more people working side by side in the same space.
There are many new trends that reflect changes in the way people live and use space as well as technology in custom home construction. Voice controlled technology has added more ease and convenience to how people get things done in and outside of their homes. Smaller homes have become more popular as well. People have become more interested in how space is utilized as opposed to how much space they have. Space is also being used in more innovative ways that combine both indoor and outdoor areas for a more inclusive indoor and outdoor design. Kitchens continue to grow in both size and function. People enjoy kitchen space that allows them to cook together and visit with each other at the same time. As a result of the changes that are evident in peoples lifestyle choices and preferences, custom home construction companies have continued to change and expand to meet the new demands of today.
Please follow and like us: