Nick Rainey is the man behind the book called "The 6 Week Workout Program" a detailed book full of exercise that replaces the personal trainer. His book has graphic pictures of at least 30 workouts with a detailed explanation on how to perform the workout.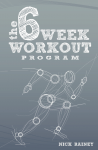 What I loved about the book is that he gives you a workout program each week. There is an area for you to write down notes. The book tells you how long or how many reps are required with each exercise.
The book neatly fits in your fitness bag, making this book great to use at home or at the gym. The index to find pictures of each exercise is detailed. The only thing that I would change in future editions is that I would make the photos larger and more detailed. Most definitely Nick Rainey guides you through everything!
Make this book part of your fitness New Years Resolution. Purchase his book on Amazon.com and get fitness advice here http://sixweekworkoutprogram.com/.