FREE GIFT! In Celebration of Thanksgiving Kindle Countdown Event Sale
Nov 23 -25, 2017
Kindle Countdown Deal. Sale (FREE DOWNLOAD). Bestselling E-Guide " The Street-Smart Paralegal's Guide to: Getting a Job With a Lawyer or Law Firm"
The Street-Smart Paralegal's Guide
Author: Tina Khera
Genre: Business, Law, Career
ISBN: 978-0-9913464-0-0
Pages: 99
Book Description
Paralegal programs are great to teach you the basics – how to write, how to analyze, different areas of law, etc., but they limit your exposure to what happens next. Sure, a career advisor will spend 1-2 days explaining how to format your resume, how to draft a cover letter and how you can go to them to critique it and get help with your job search.
But think about it – you were just in a class with at least 20-30 other aspiring paralegals that learned the same things you did.
After all, the structure of the paralegal program has to be consistent for all of its students, from the courses they offer to the career advice they give at the end.
Plus, once you've completed the program, you're no longer classmates. For the most part, you're all competing for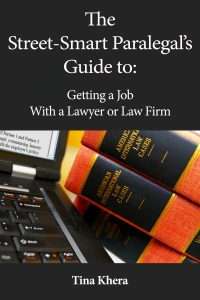 the same law firm jobs – along with past program graduates who may also be hunting for a job.
Most job-hunting guides have the same problem. Because they are intended as a general, how-to guide on finding a job, the majority give you a one-size-fits-all approach that may or may not work for you.
The way to get an edge is to make yourself stand out. But how?
Introducing The Street-Smart Paralegal's Guide to: Getting a Job with a Lawyer or Law Firm
Instead of the usual job search advice, this guide gives you a step-by-step system to find the paralegal job of your dreams!
Discover how to:
1. Easily create a plan of action;
2. Explore different areas of law;
3. Find lawyers and law firms you'd like to work for;
4. Network effectively to make connections;
5. Ace the interview;
6. Properly follow up after the interview;
7. Choose from multiple job offers; and,
8. Ensure you made the right choice.
Download for Free on Amazon! https://www.amazon.com/dp/B016K4ZH20
About the Author:
Tina Khera is a highly respected paralegal, with an impressive career spanning many years. After graduating from UC San Diego in 1999 with a Bachelor's Degree in Sociology, Tina tried her hand in law school and then decided to complete the Attorney Assistant Training Program at UCLA extension, approved by the American Bar Association.
Tina began her paralegal experience with a construction defect law firm and then with lawyers and law firms in a variety of areas, including contracts, enforcement of judgments, collections, liens and personal injury. For over seven years, she worked for a criminal defense attorney, performing legal research, preparing motions and other paralegal work.
In 2011, Tina launched Tina Khera & Associates, offering freelance paralegal services and specializing in research and preparation of legal documents. Her experience and passion for the legal world drives her desire to support those entering into a paralegal career to to help graduates and would-be graduates to make the right career choices. Learn More
Book Excerpt:
Wanda Smith… Thomas Stelling… Samuel Turnpike… Maria Vincenzo…
Jane Williams blinked into the sunlight as the dean droned on with his list of paralegal program graduates. This is it, she thought to herself, the end of an era.
As she waited for her name to get called, a million thoughts started going through her head. But one question kept coming back…
What do I do now?
 What others are saying..