Whether you need to send thank you cards to clients, sales informational postcards, Christmas cards or sincere cards to friends.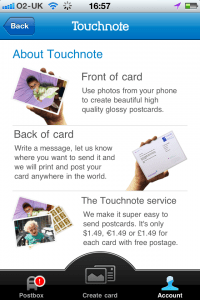 Touchnote is for you. Touchnote is a free app that can be downloaded onto your android phone or iphone. You can also access Touchnote on your computer. During this busy holiday season, saving time become a necessity. Parents love to send cards and pictures to their loved one that live far away.
Touchnote is easy to use.  You login then you can use photos from your computer and mobile. Place the photos on the front and place your message on the back. Prepay and for a very low fee Touchnote mails the postcard for you. Best of all it can be mailed anywhere in the world. Saving you big on postage. This is great if you have relatives who live in other countries. No more lining up at the post office during the Christmas rush. Most family members want to receive cards they can keep.
I was impressed the card is printed on a high-gloss, thick full size postcard with the photo of my choice. Lots of room to record a detailed message. I found the graphic screens to create your postcard very easy to use. You can select your photo from Facebook, your phone or computer.
I give this card Five Stars, a must have for anyone who wants to save time during the holiday season!
Download the Touchnote App or use it on your computer here http://www.touchnote.com