About the Author
Alexi Panos has inspired hundreds of thousands of people toward a life of personal fulfillment through her various business, multi-media, and philanthropic platforms. Her new transformational methodology she co-created called The Bridge, is making waves all over the world for is revolutionary new take on radical self-development.  In 2005, Alexi Panos cofounded the non-profit organization E.P.I.C. (Everyday People Initiating Change) which brings safe, clean drinking water to those in need in parts of the developing world. Named as one of Origin Magazine's Top 100 Creatives Changing the World, winner of Elixir Magazine's Millennial Mentor Award, and dubbed one of "11 Noteworthy Millennials" in the Huffington Post, Alexi is truly shaking things up with her passionate and energetic delivery, making a unique mark on the world. Connect with Alexi at AlexiPanos.com.
About the Book
Is it possible to be a master of your reality? Be happy, and create an epic life despite your circumstances? Hell yes! And we're just getting started. That's the mantra Alexi Panos lives by in 50 Ways to Yay! But Alexi wasn't always this positive. About six years ago, she woke up to the slow monotony that had become her life. Sick of feeling stressed out, emotionally detached, and never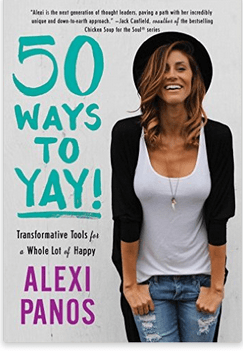 quite happy enough, she knew something had to change.
So Alexi immersed herself in psychology, Eastern thought, and personal development by reading thousands of books, taking classes, and experimenting with techniques that were sometimes amazing, and sometimes disastrous. In 50 Ways to Yay!, she shares her results in this delightful, yet thought-provoking primer, such as:
-It's not about what life has dealt you, it's about how you react to it.
-Vulnerability is relatable. Perfection is not.
-Those who are happy with nothing are happy with everything.
Alexi has done the extensive research (so you don't have to) and synthesized it into fifty practical tools that you can apply for extraordinary results now. With her guidance, you can experience a domino effect of inner peace, inspiration, and a whole lot of happy.
Details
Paperback: 224 pages
Publisher: North Star Way (June 7 2016)
Language: English
ISBN-10: 1501131788
ISBN-13: 978-1501131783
My Thoughts
I received a copy of this book from NetGalley. Alexi's 50 ways to improve your life are simple, memorable, thought provoking and each chapter will leave you wanting more. This is the type of book that you carry in your purse and reference when you want to feel inspired and motivated. Alexi herself has been named one of ORIGIN Magazine's TOP 100 CREATIVES CHANGING THE WORLD and dubbed one of 11 NOTEWORTHY MILLENNIAL'S by Huffington Post. She practices what she preaches, Alexi has facilitated global leadership training programs around the world through her non profit E.P.I.C. (Everyday People Initiating Change) that give people the tools they need to implement global giveback initiatives to communities in need. This non profit E.P.I.C. donates 100% of all donations to their projects. Stay tuned this book will be the beginning of a series of books published by Alexi under this publishing house.
Alexi's mission is to empower ONE BILLION people to harness their unique gifts in order to create a Compound Inspiration Effect that truly changes the world. The book 50 Ways to Yay!: Transformative Tools for a Whole Lot of Happy is available as a paperback and in ebook format. You can learn more about Alexi Panos and her writing by going to her website, Amazon and other retailers.
happiness
self esteem
self improvement