Writing non-fiction how-to books for authors and speakers, author Yvonne Wu creates a book that talks about WordPress for beginners. Yvonne is the owner of The YP Publishing. She currently assists authors with publishing their books, website creation and promoting their book. "I noticed there was not a lot of material for beginners who are new to the internet and may feel overwhelmed," shared Yvonne.
Blogging for Smarties Blogging for Authors and Speakers provides the answers in one complete book. "Through the years, as I was looking to further my knowledge I found that in order to find the answers on how to blog you found yourself buying several books. One book for setting up your blog and one book for marketing your blog. I decided to change all that." Yvonne says "I found that when I created a website for a client, I was spending a lot of time teaching my clients the basics on how to use their blog and how to market their blog. I decided it would be easier to take those commonly asked questions and put them in a book. I decided to go one step further and add videos as well."
Blogging for Smarties book and videos takes you through the basics of setting up a hosted and self hosted WordPress blog, why you should use a blog as your website, building your blog, and effective strategies to market your blog. There are two videos that are for beginners that provide step-by-step instruction on how to set up your blog. As well, there is one video for advanced users who want a self-hosted WordPress site.
Yvonne Wu lives near the Wine Capital of beautiful historic Niagara on the Lake. Yvonne started blogging using WordPress in 2008. "What makes my book unique," Yvonne shared.   "My book has simple to read language. Many Blogging books are very general and are not targeting the needs of a specific occupation. Blogging for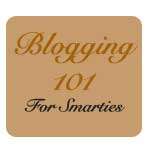 Smarties Complete Editions has how to's, strategies and solutions that meet the needs of authors and speakers. "
The prevalence of social networking has made blogging more popular. Blogging provides the opportunity for content to be updated in a really timely fashion and for people to actually engage in a more conversational way. Social networking allows this content to go viral. To be shared.
To find out more about Yvonne Wu's book, visit her website. To ask questions about the book visit her Facebook page.
blogging
book
technical book