Yvette Bethel is a Fulbright scholar and author with more than 20 years of professional experience at a Fortune 500 company and 9 years as an independent consultant at Organizational Soul. She is an advanced Emotional Intelligence Practitioner within the Six Seconds network. Six Seconds is a global, non-profit organization with the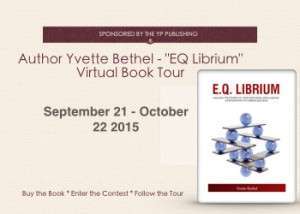 sole purpose of introducing emotional intelligence to the world. Using emotional intelligence coaching, EQ assessments, emotional intelligence training and other tools,Yvette helps organizations to transform their cultures by helping them to build productive work relationships.
Bethel is a member of the Special Olympics fundraising committee, freelance article writer and the author of E.Q. Librium: Unleash the Power of Your Emotional Intelligence; A Proven Path to Career Success, the award winning activity book, Getting to E.Q. Librium and the forthcoming book Interconnectivity, Flow and Balance: A Paradigm of Organizational Engagement. Bethel was a member of and volunteer with We the People. As a liaison between we the People and Six Seconds nonprofit organizations,she was one of the architects of a pilot that introduced emotional intelligence to public schools. The objective was to equip students with the tools they need to develop self-regulation skills in emotionally charged situations.
The Interview
What does emotional intelligence mean and how does it benefit me in my personal life?
Emotional intelligence is a form of social intelligence that equips individuals with the skills they need to monitor their emotions, and those of others, and using this information to inform their actions. Emotional intelligence is not about not expressing any emotion at all, it is about expressing the right amount of emotion, at the right time and in a constructive way.
What advice can you offer women who are seeking to find their own career path?
E.Q. Librium is helpful for women who are seeking to develop the skills they need to position themselves for their desired career paths. It is also useful for developing the skills that will help women to seek and find a career path while balancing their work and personal lives. These emotional competencies provide women seeking to find their career paths with skills that help them to differentiate themselves from others in the workplace. They are effective under pressure, they can focus on their career paths, understanding when they should wait for a promotion and when they should pursue one, and they can handle rejection with grace. The benefits don't stop there, once they are employed, E.Q. Librium can provide them with the insights and skills they need to succeed at work.
How does Games People Play at Work compliment the book?
The Games People Play at Work is a single outcome, interactive e-learning solution designed to create safe opportunities for leaders to encounter difficult people in a virtual office environment and use Emotional Intelligence to navigate the personalities and situations.
It is an alternative to traditional online training solutions because it both educates and entertains by immersing learners in a work environment where they are immediately challenged to navigate personalities and situations.
The Games People Play at Work is ideal for leaders and potential leaders in corporations, universities or government, or other individuals who are dedicated to their personal development. Existing or potential executives, managers, supervisors or even project leaders are often challenged by diverse behaviors within a team and can benefit from the Games People Play at Work.
The Games People Play at Work helps employees and managers to learn emotional skills necessary for:
– Developing a climate of trust in their immediate work environment
– Building respect among co-workers and team members
– Embracing change and helping others to embrace change more effectively
– Building high performing teams
– Being open to constructive conflict
– Enhancing creativity and productivity
– Improving the bottom-line.
What advice can you offer persons wanting to become leaders
E.Q. Librium first builds the individual emotional intelligence skills of the leader and then provides them with practical strategies they can use to improve communication dynamics within the team, manage conflict, engage office politics constructively and lead a diverse team. Emotionally intelligent leaders manage their stress levels effectively so they don't contribute to low morale unwittingly.
How can we learn more about your book?
You can contact me on my website http://www.orgsoul.com/ .
E.Q. Librium is available at:
Amazon and other retailers.
advice
business
business book
career
emotional intelligence
entrepreneurship
HR coaching
leadership
managing employees
personal growth
virtual book tour