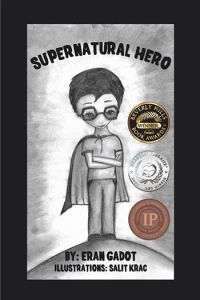 By: Eran Gadot
ISBN-13: 978-1493758234
Don't try to be someone else, be yourself!
Reading this book will make you see that being yourself is the only way
for success, all you need is to believe.
Andy is the nerd everyone makes fun of. He's really skinny, wears glasses and talks to himself, but he falls in love with the prettiest girl in the class. One day Grandpa dies and turns into a ghost. Then, Andy discovers a new power, he can see ghosts and talk to the dead.
Join Andy's journey and find out how a nerd can become a hero.
Supernatural hero is a great children's book with an outstanding story, for the whole family to enjoy. This book series will stay with you forever.
About The Author
Eran Gadot is an award winning author. Gadot is married and a father to three children and two cats. He is proud to have ADHD and loves the fact that writing is the only way for him to focus on one thing. In his younger years he owned Pet Coffee, the first coffee place for dogs and their owners. He then opened a new coffee place, No Bill, where customers were free to pay as they please. He was the co-founder and CEO of a small high-tech company which was later sold to Playtech.
He is currently one of the owners of an advertising agency, works as the head of the creative department. His love for sports got him to be owner of a sports live scores website and an enthusiastic tennis player. He also has helped producing several independent films.
Few words from Gadot:
"I can't remember a time when I didn't write. I write about everything. As far as I'm concerned what isn't written down simply isn't important. Writing is in my blood. The words inside me are constantly trying to burst out, however much I may try to focus on other things.
My greatest dream was always to write a book for children, whose honesty and innocence constantly overwhelm me. It's thanks to children that my own inner child is sustained and never ceases to make his presence felt.
When my son started sixth grade and embarked on the journey known as adolescence my urge to write a book for children became impossible to ignore. His experiences granted me inspiration as well as fantastic ideas for my book.
As I began to write, the reactions of my son and his friends totally amazed me and I understood that I was on the right path. I completed my book, which became the first in a series of six. The responses from my readers renew my energy daily and strengthen my deep motivation to continue to write.
For me, writing is not a hobby but a vocation. I simply have to write. And I still feel like a boy, with a tremendous desire to realize my dreams, break new ground and transform the impossible into the possible."
The book is available at: Amazon and other retailers.
Learn More Here