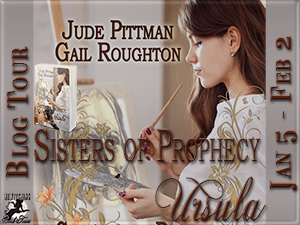 Mythical Books
The Portrait's Story – by Jude Pittman
Genre: Paranormal, Time Travel
Publisher: Books We Love, Ltd.
Date of Publication: September 29, 2014
ISBN: 978-1-77145-310-3
Number of pages: 164
The character of Katherine Shipton floated into my mind fully completed, right down to hair and eyes, a talented artist with a runner's body and deep love for her family and ancestors.
Katherine's grew up on her grandmother Mina's stories, stories about her late great ancestor, the dubiously renowned Mother Shipton of English prophecy fame—just as I did. Mother Shipton really is my late great ancestor.
Katherine heard the stories so often, heard the dozens of prophecies Mother was reputed to have penned so many times that she couldn't help but feel a certain kinship, even though she'd never been able to actually convince herself in all that prophecy stuff. Again, just as I did. If you google Mother Shipton, this is what you'll find:
"Mother Shipton exhibited prophetic and psychic abilities from an early age, writing prophecies in the form of poems, not much different than the cryptic Quatrains of Nostradamus – all subjective.
At age 24 she married Toby Shipton, a local carpenter, near York in 1512 and told fortunes and made predictions throughout her life. They had no children, but she became known as Mother Shipton because of all the people she helped. They lived in Knaresborough England. Her power to see into the future made her well known not only in her home town but throughout England.
Her legend was passed on through oral traditions and is perhaps sometimes embellished a bit. Since 1641 there have been more than 50 different editions of books about her and her prophecies. Many of her visions came true within her own lifetime and in subsequent centuries predicting important historical events well into the future including: – the Great Fire of London in 1666, the defeat of the Spanish Armada in 1588 – as well as the advent of modern technology. She even forecast her own death in 1561. Today her prophecies are still proving uncannily accurate."
The idea that Katherine, an artist, would want to paint a portrait of Mother Shipton to give to Grandmother Mina for her 80th birthday really clicked with Gail and I, and as we worked on the story, the idea of the portrait being the vehicle by which Mother Shipton would actually enter into the current century really caught hold of both of us. The portrait of Mother Shipton depicted on the cover is, in fact, supposedly a sketch of the real Mother Shipton.
From that point on Katherine took a hand in the story herself. She brought her best friend Sylvia back from the New York fashion world and together they set out on a series of journeys that took them back into the 16th Century, girls on a mission, their assignment straight from Mother Shipton.
The portrait and Mother Shipton and her prophecies grew into a major part of the story we were telling and set the foundation for the series we plan to write about the descendants of Mother Shipton and their experiences with the century travelling ancestor. And certainly, few covers ever fit the inner story as perfectly as this one. After all, it had a unfinished portrait just waiting for it.
Available at Books We Love and Amazon
Tour giveaway
5 print copies Sisters of Prophecy – Ursula Open to US and Canadian Shipping
Rafflecopter
a Rafflecopter giveaway

Link
http://www.rafflecopter.com/rafl/display/ba112ffc910/
About the Authors
Jude Pittman emigrated from Canada to the United States with her mom and brother when she was 14. Her time there included 12 years in Texas where the genus for her first murder mystery, "Shadows Are Deadly" now part of Jude's "Murder on My Mind" trilogy first took root. In 1992 Jude returned to British Columbia where she met her husband John. The couple moved to Calgary, Alberta where they continue to live. Descended from the Shipton line, Jude has always been fascinated with the historical and legendary stories about her late and often maligned ancestor, Mother Shipton and her gifts of prophecy. The Sisters of Prophecy series is a fictional account of those Shipton sons and daughters who inherited Mother Shipton's gifts.
Gail Roughton is a native of small town Georgia whose Deep South heritage features prominently in much of her work. She's worked in a law office for close to forty years, during which time she's raised three children and quite a few attorneys. She's kept herself more or less sane by writing novels and tossing the completed manuscripts into her closet. A cross-genre writer, she's produced works ranging from humor to romance to thriller to horror, sometimes in the same book. She's never quite sure herself what to expect when she sits down at the keyboard. Now multi-published by Books We Love, Ltd., her credits include the War-N-Wit, Inc. series, The Color of Seven, Vanished, and Country Justice. Currently, she's working on Black Turkey Walk, the second in the Country Justice series, as well as the Sisters of Prophecy series, co-written with Jude Pittman.
Learn More About The Authors
http://bookswelove.net/authors/jude-pittman/
http://bookswelove.net/authors/gail-roughton/
@BooksWeLove