[vc_row][vc_column][vc_column_text]
1. What started your writing?
I started writing at age 40. I'd quit corporate America to stay home with my kids—one of whom is disabled. Maybe I never would have become an author if I'd continued working in the insurance industry. And I wonder if I could have created a character like Megan—she's odd—if I didn't have a profoundly autistic son. I'm better able to look at the world differently.
2. Who do you write for?
In a way, I write for myself. My stories are ones I'd like to read. I do enjoy mysteries, though my novels are character-driven mysteries, in that it is about more than solving the crime. Every story in the Wind Series features events personal to Megan. And mysteries usually appeal to women, especially as the sleuth is a woman. And the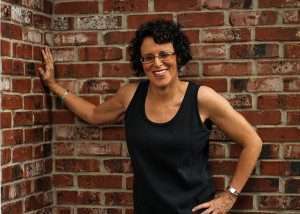 stories appeal more to mature women—I wouldn't know how to write a young adult story. As a young reader, I preferred non-fiction. My historical fiction stories, Death Steppe and a American Civil War story I'm currently working on, appeal to men as much as women.
3. Can you tell us where we can find you on the web?
You can find me on the web at judybruce.com. I have a blog at heyjoood.com that features books, movies, and personal stories.
4. What was the greatest challenge in writing this book?
The greatest challenge in writing this series came with the first book, Voices in the Wind. I wrote it then set it aside because it didn't work for me. Then a few years later, at the dinner table, the way to fix it hit me. Since then the stories have come easily. I created a character that always found herself in the midst of trouble.
5. How does this story resonate with women?
Women like the stories in the Wind Series because it features a strong woman who successfully takes control in the midst of personal and community tragedy and mystery. I think people like to see someone win in the battle against crime.
6. What is your best advice for beginning writers?
My advice: Young writers should immerse themselves in stories—different mediums, different genres. If you write romance, watch movies and read books that are science fiction or historical or quirky British. Variety of exposure will give your stories depth and breadth. Read the newspaper, do some research—it will give you fuel for your stories. And study the craft of writing—I bought books on writing novels, but I decided they were long-winded. A resource such as Writers Digest will give you concrete tips on writing.
7. Tell us about the main character "Megan" and how she relates to you the author?
Megan and I were both born in Nebraska and we both graduated from Creighton University of Law. Oh, and we're both short and have dark hair. Otherwise, we don't have much in common. She's bossy and bold; I'm much more laid back. While she's busy solving mysteries, I'm drinking tea and eating crumpets.
[/vc_column_text][/vc_column][/vc_row][vc_row][vc_column width="1/6″][vc_facebook type="button_count"][/vc_column][vc_column width="1/6″][vc_tweetmeme][/vc_column][vc_column width="1/6″][vc_googleplus][/vc_column][vc_column width="1/6″][vc_pinterest][/vc_column][vc_column width="1/6″][/vc_column][vc_column width="1/6″][/vc_column][/vc_row]
mystery novel
suspense
women's fiction