SteerList is a free to do list app that was designed by a busy mom for busy moms. We all have a million things to remember, but add a family and those million things become too much for one mind to handle. While juggling your own to do list, you have to add your kids into the mix, and sometime even your significant other's items. Before you know it, you're dropping the ball. Example: You completely forget to drop off the library books because you suddenly remember you have to go get some cake mix for the bake sale. Now, the books are overdue and you're kicking yourself because you even drove right near the library on your way to the grocery store.
Wouldn't it have been nice to have gotten a little reminder about the books as you were rushing to the grocery store? SteerList is an ingenious free app that acts as that very reminder so you never forget the little things when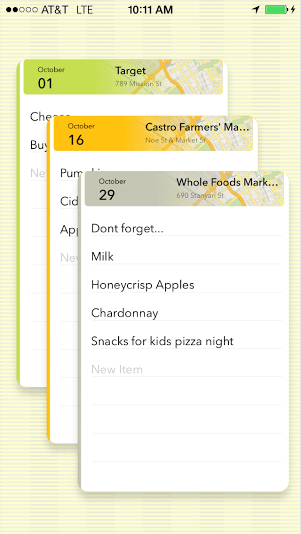 big things come up. By using location notifications, getting things done is as easy as select a day, select a location, and make your list. Easy.
For example, Autumn is a busy time of year. It's the time to prep for the holidays, such as Halloween, Thanksgiving, even Christmas, and Hanukkah. SteerList can help you remember to pick up new rain boots for your kids before the first rain, so you avoid the awful tragedy of wet socks. We can also help with new recipes for Thanksgiving, and making sure you don't forget a single item so you pull of the perfect Thanksgiving feast. We can even help you remember to stop at the nearest Starbucks and order a Pumpkin Spice Latte to help you unwind after a long day!
SteerList is free for iPhone (iOS7), so it doesn't cost anything to download it from the App Store and give it a try! Have a project you've been meaning to start? Keep forgetting to pay the bills? Download SteerList and get it done today.
Website: http://www.steerlist.com/
Download our app for FREE in the iTunes Store: https://itunes.apple.com/us/app/steer-list/id661605663?ls=1&mt=8
Facebook: https://www.facebook.com/steerList
Twitter: https://twitter.com/SteerList
*Sponsored Post*