The Interview
Q. What is the name of your business?
MeFindCoupon, we can help you find the best variety of coupon codes and special promotions on the web You can find me at .http://www.mefindcoupon.com/
Q.  Who is the Caveman?
The caveman represents hidden deals.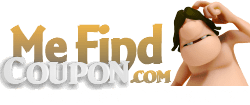 Q. What service (s) or product (s) do you provide?
MeFindCoupon Community can help you find coupons and codes easily – plus you can earn points. We have a database of almost 5,000 stores!
Q. Tell us about your store selection?
We are partners with well known fitness companies, jewelry stores, kitchen products, cosmetics, books, hotels and more. You can view the list here http://www.mefindcoupon.com/stores/
Q. What Makes MeFindCoupon.com Different Than Other Sources?
We renew our coupons and codes every month, all of our offers listed are approved by the merchants and verified by our community and a third-party service. Our users can receive points for daily activities and for joining our community. All are welcome to join The MeFindCoupon Community for free.
 Q. Who benefits from your coupons?
Women who may of just had an addition to their family and are on maturity leave. One income families who are on a tight budget. Students in college and university. Individuals who are trying to save money.