How can I say that with such certainty?  Because I met my significant other over six years ago when I was 75 and widowed for nearly two years.  That makes me 81 years old today and Art is six years younger.  Not exactly a cougar, I'm here to tell you that the key to meeting a significant other/caring companion/special friend – call it what you will – is this:/
KEEP AN OPEN MIND AND HEART
Because … if you burden yourself with memories of relationships that are in the past, or a laundry list of what you're looking for (assuming you're interested), you've shut the door on opportunity.
The inner dialogue goes something like this:  "After all, it's not as if I'm not interested, but I don't want just anybody.  He/she's got to be right for me." (No argument there.)  But then come the list of requirements, which,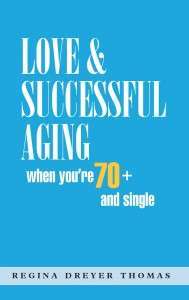 in many instances, are hard to fill, because (and here's the kicker), they're based on a fantasy of what was, and not keeping an open mind and heart to the reality of what is, i.e., their present life!
Then the issue segues into, "And besides, it's not worth the effort to find someone.  I wouldn't even know where to begin to look for someone my age." Or, "I don't want to take care of some old geezer and I don't want some old geezer taking care of me." Then there's "Getting involved with a special someone means sex and that's the last thing on my mind;" or even "I have enough love from my children, grandchildren and friends.  I don't need a 'significant other' in my life."
When the door of the mind is closed to new experiences and new relationships, the only thing that will open it is recognizing in one's self that you want to love and be loved by a significant other.  You yearn for it, are hungry for it, regardless of your age.  You become emotionally available.  That's not to negate the power of love one had for one's deceased spouse or has for one's children and grandchildren.  It's an entirely different thing.
To drive home these points, I wrote a book, Love & Successful Aging When You're 70+ and Single (available online or in bookstores and libraries), which I hope debunks the myth that no one is too old for love.  The upbeat true stories in the book are based on widowed, divorced, or never-married respondents in their 70's through 90's  who are in committed relationships with a significant other while living independently.
From their responses, I gleaned the "where-I- met- my-significant-other" responses to address those who claim they don't know where to look.  Here they are:
A singles discussion group connected with a branch of the church to which they both belonged;
Through their retirement community;
Through volunteer work where they were both volunteers;
Through a non-profit agency where one was an employee and the other was a volunteer;
Through mutual friends in a social setting  (wedding, bar mitzvah)
Through a personal ad in a community newspaper;
Through an activity at the public library.
Once the heart and mind are open to new experiences, unexpected opportunities can arise, right?  By the way, I met my significant other via random seating in the retirement community in which we both live.  We've been dinner partners ever since.
About the Author: After a successful career as a dental hygienist, consultant, professional magazine writer, self-published book author, actress, and radio and TV hostess in both the public and private sectors, Regina started unearthing my many thoughts on her life experiences.  Regina Dreyer Thomas is the author of
Love & Successful Aging When You're 70+ and Single. Visit her website at www.loveat70.com and her blog www.reginadreyerthomas.blogspot.com.
aging
love
romance