Tell us a little bit about you: My name is Janelle McLeod, wife, mother of 2 amazing little girls, and Founder & Creative Director at; World of Little Fashion clothing line for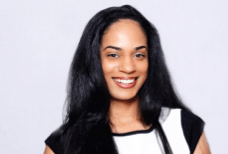 little people. This business was inspired my eldest daughter born 2007 with special needs. She is diagnosed with achondroplasia dwarfism. So my business is a fashion line for little people. I'm an Advocate / Raising Awareness within the LPA (Little People of America) Community.
How you got started with your business? My career all started online back in 2010 with MLM (multi-level marketing) and Direct Selling. This line of business was such an eye opening experience for me. I've always grew huge teams and down-lines, quickly reached companies titles and ranks of that next "National Sales Director" "Regional Director" Or "Team Leader" etc and so forth, traveled to events, and grew all of this high momentum using my blog plus social media however through this all I was broke. Yes! FLAT BROKE and struggling with my big name and title. Late 2012 I dropped all of this hype and nightmare within the MLM / Direct Sales industry and began focusing on what I truly know, skilled with, and passionate about. 2013 I then became a part time Social Media Manager and had over 14 clients total under my belt. Managing their business, brand, and helping them make more money with their businesses all online by leveraging the power of the internet.
What is the primary objective of your business? I started a clothing line for little people due to frustration and lack of clothing wear for dwarfism. I said one day "If I am struggling like this to find clothes to fit my daughter and she's just a kid then I am sure ALL of the little people who are actually adults are struggling really bad just the same?! God, I have got to do something about this!" It was then I got down to work building the brand online since little people are all over the world. This all began with searching and researching in 2008. 2009 I launched kids wear. With a few pants. I hit a few road blocks along the way and had to put my business on hold due to personal setbacks arising. However late 2013 I picked right back up where I left off and now have a full women's apparel wear for adult ladies with dwarfism short stature. World of Little Fashion is an online shopping site for adult women ages 25-45 height between 3-4'10. My primary objective is to provide the latest fashion forward styles for adult women with dwarfism. Being able to shop adults wear without having to for once shopping inside the kids section to find fitting clothes.
What advice will you give to struggling business owners: Business building and branding is not always easy and definitely does not happen overnight. Mistakes will be made along the way. So yes you will struggle. It's part of the game to rise up! DO NOT get upset or angry. Instead, embrace the errors. It's your "learning lessons" to help you never make that mistake again right? Use these lessons to strive high and overcome the next obstacles and remain focus. Help someone else learn from your personal mistakes. Consistency is truly the key to your ultimate success. And just remember, take things slow!
What's new or what is coming up in your business, where are you today? I have built 3 successful businesses making thousands of dollars monthly all online now all 3 of my companies are running on autopilot. What's new for my online brand is being able to now teach other busy moms in business how to do the same. Grow their business (or help people start an online business), build their brand, and make more money leveraging the power of the internet.
Get FREE training at: http://www.JanelleMcLeodOnline.com
What advice will you give that you have learned along to the way? Never try to be "SUPER MOM" and do it all. Don't try to be everything to everyone. Remember, you
have something special and unique. A passion, gift, and a talent. The world needs your originality so follow your dreams and be that change the world needs.
How does your business benefit Women and their families? My FREE 5 Day Training Series teaches busy moms in business how to shine online and rock the web to live the lifestyle they truly deserve. Social Media Marketing Strategies that gets moms in business noticed. How to position their brand online as an authority figure in their field and ultimately gain results while earning passively from big brands online too. It's always nice to see multiple streams of income rolling in the bank accounts without having to beg friends and family members, go to hotel meetings, do cold calling, or any types of recruiting. This is such a nightmare! Especially for moms in business, we are extremely busy so we "moms" need leverage! I get paid from big brands on my blog from: Google, Clickbank, Forever 21, Amazon, Payless Shoe Source, Walmart, and this is just to name a few plus more. Learn more at  http://www.OnlineSuccessMarketingLab.com.
What service (s) or product (s) do you provide? I give back! I coach and train moms (or people) how to use the right tools, resources, and how to earn automated income passively while focusing on their primary company. I share all of my online marketing strategies through my private Inner Circle over at: http://www.OnlineSuccessMarketingLab.com
business startups
coach
social media support
training series