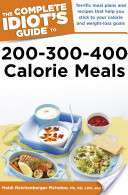 About the Book The Complete Idiot's Guide to 200-300-400 Calorie Meals
People who want to lose weight are faced with a dizzying array of options: low-fat, low-carb, gluten-free … the list is endless. But the truth behind them all is that the only real way to lose weight is to burn more calories than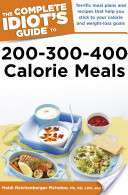 you take in. Those who have rediscovered calorie counting want calorie-controlled options that take the guesswork out of dieting. But they also want food they can enjoy and feel good about. And for many, that means going light on the artificial sweeteners. The Complete Idiot's Guide® to 200-300-and 400-Calorie Meals helps readers put together a meal plan that keeps them to their calorie goals.
Purchase the book here http://www.amazon.com/Complete-Idiots-Guide-200-300-400-Calorie/dp/1615641866/
My Review
I was given a complimentary copy of this book. This is a great book if you want to eat a specific amount of calories per day and are looking for a fast way to have access to nutritious meals. The book starts with a nice description of what is nutritious and what groceries you should have in your kitchen. The book provides sample meal plans. The recipes are easy to make and I love that they have the serving size. The calories are listed and a breakdown of their nutritional value. Best of all there are tons of recipes and the back of the book has a handy index. The only thing I would like to see added to the book is graphic pictures of the finished recipe.
About the Author Heidi McIndoo
A registered dietitian, mom, and foodie. I love helping people eat the foods they love and love the foods they eat, all while eating nutritiously to help them feel great and be healthy.
About the Author Ed Jackson
Ed Jackson graduated from the prestigious Culinary Institute of America in Hyde Park, New York in 2000 with the President's Scholarship Award.
* I was given a complimentary copy of this book. All my opinions are my own.