By Sandy Weaver Carman
When you were 11, what did you want to be when you grew up? When I was 11, I landed my first part in a play. It was the musical Oliver, I was one of the ragamuffin kids in the chorus and I was hooked – I knew my destiny was to be a performer. Now, I know
that a lot of little girls want to be movie stars, but I really knew that was my calling in life. I did everything – I was in every play, every talent show, every drama and speech club – everything I could find that would get me closer to stepping through the door of adulthood as a performer.

We lived in Northern California. There was a lot of opportunity for a budding actress there, and I had it all mapped out – I would star in every local theatre production while in junior high and high school, get written up by a San Francisco newspaper for my stage presence and prowess, graduate and move to Los Angeles to attend the College of the Pacific, a prestigious performing arts school, where of course I would be discovered and live happily ever after as the star I was born to be.

At 15, I was headed down the hallway to success and could see the open door to my future. Starring in local theatre productions – check. Favorable write-up in the San Francisco Examiner – check. But then the door slammed shut.

You see, we lived a pretty nomadic life. Dad was career military, so we moved a lot. My brothers and I were used to it, or as used to picking up and starting over as three kids could be. Mom was always reminding us "When faced with a closed door, always look for the open window." It was wisdom she used to keep us focused on the future instead of lamenting the past. She probably also used it to keep us from whining. And it worked. Most of the time.

We packed up the car and set out on the cross-country drive. Every mile behind us was another mile further from my dream, and with California in the rear view mirror, that door to my bright future was getting smaller and harder to see. But before I knew it, we were in a new world, a world completely different from Northern California. We were in Columbus, Georgia and I was about to start my senior year in high school.

Columbus is a vibrant little city now, with a great community theatre, symphony and wonderful programs for kids. That's Columbus now. Columbus in 1976 was a sad little place dying a slow death. I was a senior in high school – I was a continent away from my dream – and I was having a little trouble holding on to my dream of being a performer. But I was certainly not ready to give it up.

My escape was the radio. This was the middle 70's when radio stations played all kinds of music on the same station and called it top 40. The very best entertainment in Columbus came out of the dashboard of my yellow Chevy Nova, tuned to WDAK. As I drove from high school to my after-school job at Casual Corner, I would think about my dream, and wonder "what's like acting, but I can do it in Columbus, GA?" I wasn't obsessing, just trying to look for that open window that Mom always talked about.

And one day it hit me like a hot spotlight on center stage – that guy on the radio talking between the songs was probably getting paid to do that! That was performing! I could do that!

Did you ever have such an epiphany that you couldn't wait to act on it? Now when that happens, we can whip out our cell phones and take care of business, but in 1976 cell phones hadn't been invented yet. When I got to Casual Corner, I raced in to the employee lounge right past the time clock and dialed – yes, dialed – the phone, calling Howie Castle, the guy who I'd just heard on the radio. "What do I have to do to be on the radio?" I asked him excitedly. "I want to be a dj!" Sounding bored, he replied "you have to have a license from the Federal Communications Commission." "How do I get that?" "You go up to Atlanta, take an electronics test, and if you can pass it, they give you a license." A cursory "goodbye" and a click came next, but I didn't care – there was an open window, and I was headed for that sucker!

I phoned the FCC, got the study materials for the 3rd Class License with Broadcast Endorsement test and got Daddy to help me study, since he'd been working with electronics all of his adult life. Don't we all need a little help sometimes, and isn't it wonderful when Dad can be that help? I aced the test and called Howie Castle back.

And he was shocked! He thought he was just blowing me off when he told me to get a license, and here I was with one. What could he do? He had to hire me!

I started out running the 6-hour block of public affairs and religious programming on Sunday morning. I paid attention to the format – how the djs put their shows together – and pretty soon I was allowed to open the mic to give a weather forecast. Then I got to do a weekend air shift, then was hired full-time to do the overnight shift and my radio career took off from there. Columbus was the smallest radio market I worked in. After two years there, I landed a job in Boston making more than Dad had ever made, then to Washington DC where I made even more. Atlanta is home now, and I'm part of a syndicated country music morning show.

Sometimes you fly through an open window. Sometimes you step through it. And sometimes you have to crawl through it the best you can. But if you can't see the window because you're still staring at that closed door, you'll never make it through.
When faced with a closed door, always look for the open window.

It was Mom that molded my career success, by teaching me to focus, hold onto the dream and keep moving towards it. Now, people refer to what she taught me as The Secret, or co-creation, or Law of Attraction. I call it the Open Window Strategy. Believe in yourself – hold onto your dream – keep moving towards the things that make you happy – and you can't help but succeed.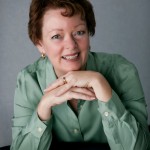 Know someone entering the work force or starting their own business? The Original MBA – Succeed in business with Mom's Best Advice, a book filled with time-tested strategies which lead to a new, modern wisdom, is available for pre-order here