By  Marcelina Hardy
Everyone knows that December is a big month for celebrating Hanukah, Christmas and New Year's Eve, but there are many others to celebrate too. Knowing about all the holidays may overwhelm you, but thankfully you only have to do something for the ones that interest you. Check this out to see how else you can celebrate the month of December this year.
National Stress Free Family Holiday Month
What a surprise here. The month that families are most likely to get together is the one that features a stress free family holiday observance. It's possible that just thinking that this is the month to try to avoid stress with family members as much as possible can help get through the major holidays with sanity.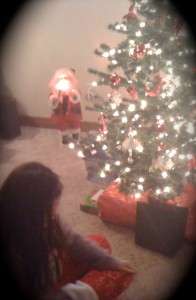 Read a New Book Month
One way to beat the stress is to read a new book. Since this is the month to read a new one, get one before the holidays. Or, you can ask for one on your wish list and get it in before the month's end to celebrate this month.
Write to a Friend Month
It's time to reconnect with old friends by emailing them.
Special Days in December
December has many special days besides December 25th and the 31st. Here's a list of special days.
December 1, 2012
• Eat a Red Apple Day
• National Pie Day
• Rosa Park's Day
• World AIDS Day
December 2, 2012
• Special Education Day
• National Fritters Day
December 3, 2012
• International Day of the Disabled Person
• National Roof Over Your Head Day
December 4, 2012
• National Cookie Day
• Wear Brown Shoes Day
December 5, 2012
• Annual Day of the Ninja
December 6, 2012

• St. Nicholas Day
December 7, 2012
• National Cotton Candy Day
• Pearl Harbor Day
December 8, 2012
• National Brownie Day
• Hanukkah Starts
December 10, 2012
• Human Rights Day
December 11, 2012
• National Noodle Ring Day
December 12, 2012
• Poinsettia Day
December 16, 2012
• Las Posadas
December 17, 2012
• National Maple Syrup Day
• Underdog Day
December 18, 2012
• Oatmeal Muffin Day
December 21, 2012
• Humbug Day
• Look at the Bright Side Day
• National Flashlight Day
December 23, 2012
• Roots Day
December 24, 2012
• National Egg Nog Day
December 25, 2012
• Christmas
• National Pumpkin Day
December 26, 2012
• Boxing Day
• Kwanzaa Starts
• National Whiners Day
December 27, 2012
• National Chocolate Day
December 31, 2012
• New Year's Eve
Celebrate Every Day of December
There you have it! Most of the days of December are ones to celebrate. Record them on your calendar right now and get ready for each one of them. December of 2012 will be the best one you've ever had with your loved ones.
Marcelina Hardy wrote this post. She loves the month of December, so she enjoys being able to celebrate more with all of these holidays. She suggests sending flowers to friends and family for many of these holidays by calling one the best florists Denver specialists available at the flower shops Denver location.