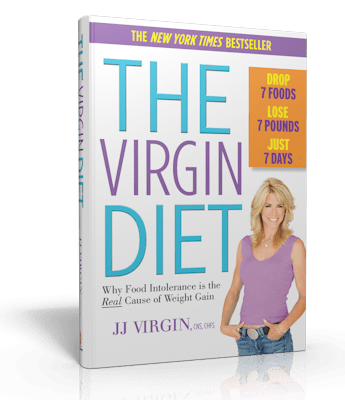 About The Virgin Diet
Are you eating all the right things—low-fat yogurt, egg-white omelets, whole-grain bread, even tofu—but still can't lose the weight? Your favorite "diet" foods may be to blame.
In this groundbreaking program, nutrition and fitness expert JJ Virgin reveals the real secret behind weight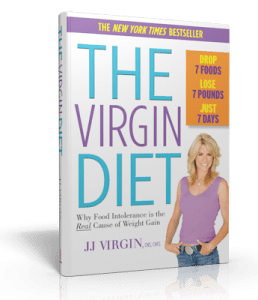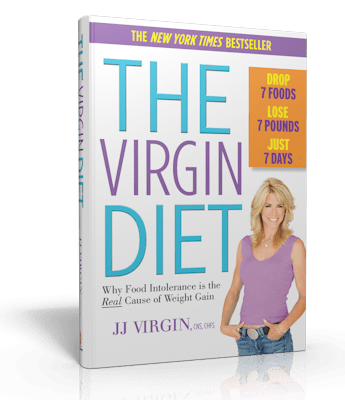 gain—food intolerance. A negative reaction to certain foods like dairy or gluten can sabotage your health by triggering inflammation and causing a host of nasty symptoms like bloating, breakouts, headaches, achy joints and—worst of all—stubborn weight gain.
On The Virgin Diet, you'll eat plenty of anti-inflammatory, healing foods to reclaim your health and reset your metabolism, while avoiding the 7 foods that are most likely to cause food intolerance. You'll never feel hungry or deprived, and in just one week, you'll drop up to 7 pounds, lose belly bloat, gain energy, clear up inflammation and look and feel years younger. And that's just the beginning!
The Virgin Diet is available at http://www.amazon.com/Virgin-Diet-Drop-Foods-Pounds/dp/0373892713/
Barnes & Noble: http://www.barnesandnoble.com/w/the-virgin-diet-j-j-virgin/1111526308?ean=9780373892716
Website: http://thevirgindiet.com/
* I was given a complimentary copy of this book. All my opinions are my own.
My Review
JJ Virgin confirmed my beliefs that certain foods can cause inflammation.  When I read the side effects from eating certain foods. I could see right away that dairy was a problem for me. In addition as she said in her book a sign is that I would be craving the food that was not good for me.
Her book talks about the 7 foods to avoid and why you should avoid them. The 7 foods I found were very easy to substitute. The foods she suggested are extremely healthy. I liked that for each food that she mentioned you should avoid she offered a healthy alternative. She also gave a detailed description why you should avoid these foods and backed it up with facts.  Her recipes at the end of the book helped greatly.
I found the book itself fit in my purse and was very easy to travel with. The tables in the book gave a quick reference on substitute food I can buy while I was in the grocery store. Furthermore I found most of the food in the health section of a regular grocery store.
I am now on the diet and I am feeling great! My skin looks better, I stopped feeling tired and I am breathing better. I intend to keep this up permanently because I feel good.
About the Author
Celebrity Health and Nutrition expert JJ Virgin is the premiere voice of scientific reason in the world of nutrition and wellness. She is the author of the new book, "Six Weeks to Sleeveless and Sexy" (Simon & Schuster). Virgin is also a spokesperson for Emergen-C and Subway and spent two seasons as a health expert on "The Dr. Phil Show."
JJ has provided nutrition and training programs for a wide variety of famous faces including CEO's, athletes and celebrities including Gene Simmons, Ben Stiller, Tracie Thoms and the new big screen "Superman" Brandon Routh.
JJ has a PhD in holistic nutrition, is a board Certified Nutrition Specialist and has completed 38 graduate courses. Internationally recognized as the creator of the Weight Loss Resistance Revolution™ program, she is responsible for turning the most challenging weight loss resistant cases into stunning successes where clients stay lean for life.