Guest Author Rocsanne Shields
I finished writing this book in early 2007, but I took my sweet time deciding what to do next. In March 2010, I heard on the TV about a town in which the mayor had taken over the empty houses and the lots around them, to be used for the greater good of the town. There were about 23,000 empty houses left by their owners who could no more pay their dues. According to newsmax.com "city-hall takes over 23.000 abandoned houses."
The story is not short, but very sad and very true — there are 33,000 abandoned houses, out of which 10,000 are too decrepit to be repaired and will be demolished, the rest of 23,000 to be taken over by the city and used to produce income and save the city.  Aside from the houses there are 91,000 urban lots abandoned and polluted by trash.  The population has declined from 2 mill. in its days of glory, to less than one mill. today.
How close to my story! It is frightening to know that fantasy walks so close to reality.  Though the process had started some time before the recession, it became accelerated by the closure of the automotive factories in Detroit, Michigan USA. Detroit's magic will be provided by the government in the guise of loans and grants for the beautification of the city and advertising for new businesses to come and bring much needed jobs with them (50% of population was unemployed in 2010, at the time the article was written).
I think that people can do a lot to improve their lot, and their children are a major factor in implementing any plan.  It is their future they should fight for.  Here are the ideas I suggest for bringing the magic back in our lives:
1. Organise teams to keep the city clean.  Many a time I come home to find somebody had thrown empty cans of pop on the side of the street, coming to roost in the side ditch.  Children and young adults can help.  They are the next generation of workers, thinkers, artists.  It is our duty to help them understand that if we destroy the environment, there will be nothing left to save in next decades.  They may organise through school, church, or just plain the neighbourhood, and help keep streets clean and green.
2. Start buying "Made in Canada".  Parents and children together, by buying only local products will contribute to reinforce the local agriculture and the small entrepreneurs.  There is strength in numbers. This may preserve jobs from disappearing.
3. Encourage the farmers' markets.  If we use all arable land to build houses and malls, we'll be always buying our food from outside our country.  Already the Canadian agriculture is suffering.  We need to encourage the farmers markets, and teach all our friends and family members of all ages to do the same.
4. Follow the example of other children.  We hear all the time about children of ten or twelve who have already started to organize their friends, and gather money to help those in need.  It is very important to support their actions and encourage others to do the same, and not only for places struck by disasters.  The way the economy is oriented, we'll have financial disasters like the banking one in USA, or the automotive crisis in North America and Europe in their generation as well.
Children can do lots to save a community.  "Canadian children help earthquake victims" is the story of Bilaal Rajan who started his crusade of helping children in need from the age of four, when he sold clementine oranges door to door. The $350 he raised was to help the 2001 earthquake victims in Gujarat, India…  After the hurricane of 2004 that ravaged Haiti, he formed a team of 12 other children to help sell the cookies his father's company donated for this effort.  In October 2004, Bilaal and his team-mates presented UNICEF with a cheque for $6,387 from cookies sold by them door-to-door.  He was seven. By the time of the article, in 2007, he was eleven, and had already gathered $50,000 by himself. You can read more at http://www.bilaalrajan.com/about_bilaal.html :
"What a legacy Bilaal has begun– and in 2007 he's only now 11 years of age! Your partnering with this visionary young man will make it possible for him to raise the consciousness of even the youngest of souls on the planet, and instill in them the purpose that so many of our lives lack today. In so doing, they will learn the importance of being of service to others, and will be primed to continue this work in brilliant ways in the future, leaving the world a better place than they found it, and keeping Bilaal's dream alive…"  He also set up a dedicated website, ( www.handsforhelp.org ) to raise awareness for children in need.
5. Children should be exposed to good examples on the media.  If we start asking for such programmes, I'm sure the TV producers will listen to our voices and will find ideas for a series of shows to encourage good deeds among children and young adults.  Today Facebook is almost more important than TV.  Let's have short movies taken while working for a good cause, instead of movies of kids beating kids.
I like to think that young people can get organized for good just as they get organized for crime.  Instead of choosing the easiest way to obtain satisfaction, they should help each other to better themselves, not to beat or bully the weaker among them.  This is our true magic.  Together we can change the conditions — locally and globally.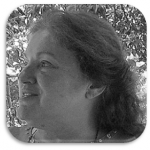 Rocsanne was born in Romania and traveled widely before settling in Canada.  She spends her time among the flowers in her garden or at the computer writing more fantastic stories.  You may visit her website at http://www.medievalhearts.com where you can meet her other heroes and heroines or www.rocsanneshield.com where you may find more about "Save Magic City".
Save Magic City is also available for purchase at Amazon.com and Barnes and Noble